If It Ain't The Lowest Car In Town, It Ain't Shakotan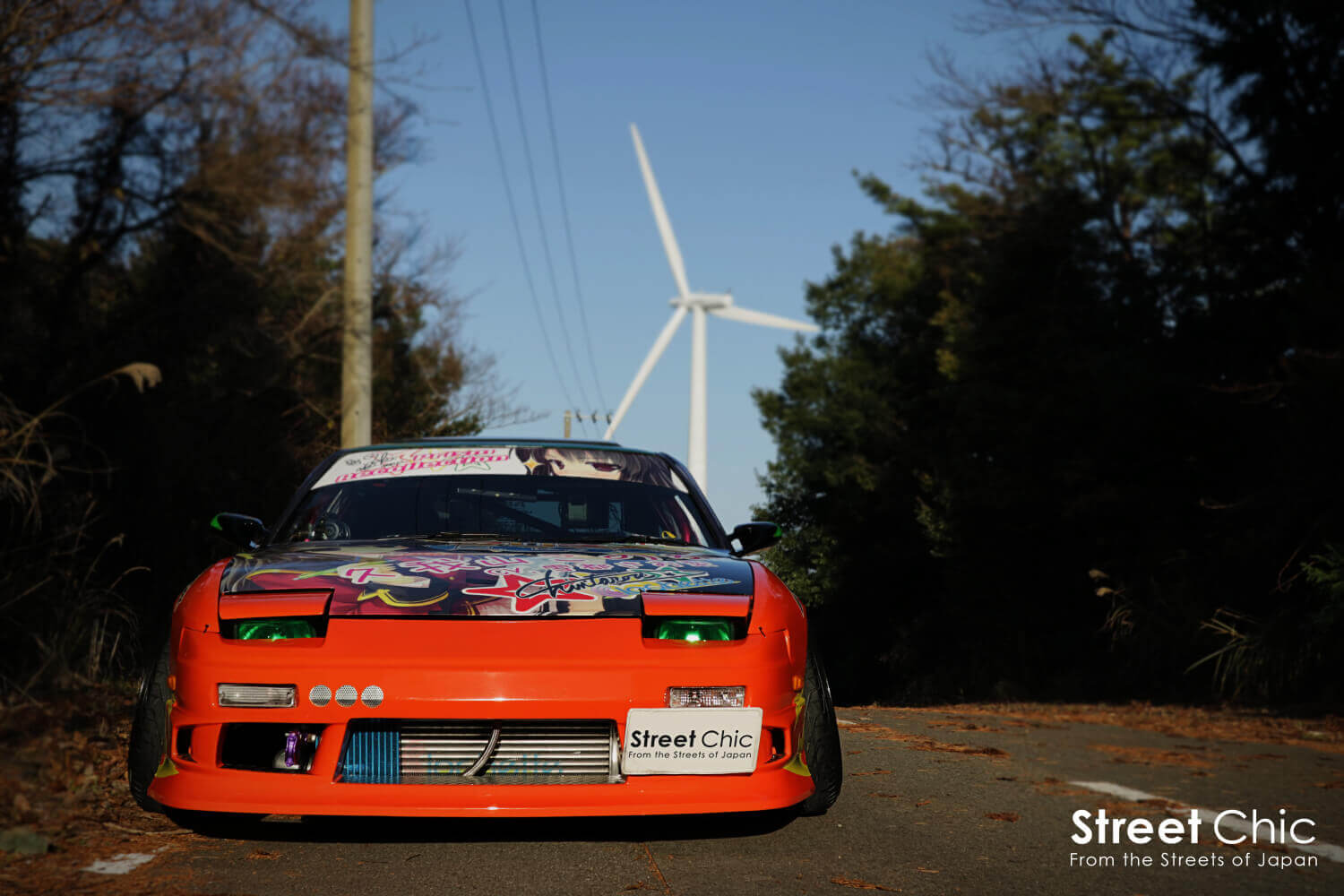 Our friend Maashee from the last post introduced us to an interesting figure, also based in Wakayama. He goes by Milky@, the head of Kishu Itasha Association.
Kishu Itasha Association has been active for 7 years, but even before then he was riding motorbikes with stickers on, so he's no newbie to the game.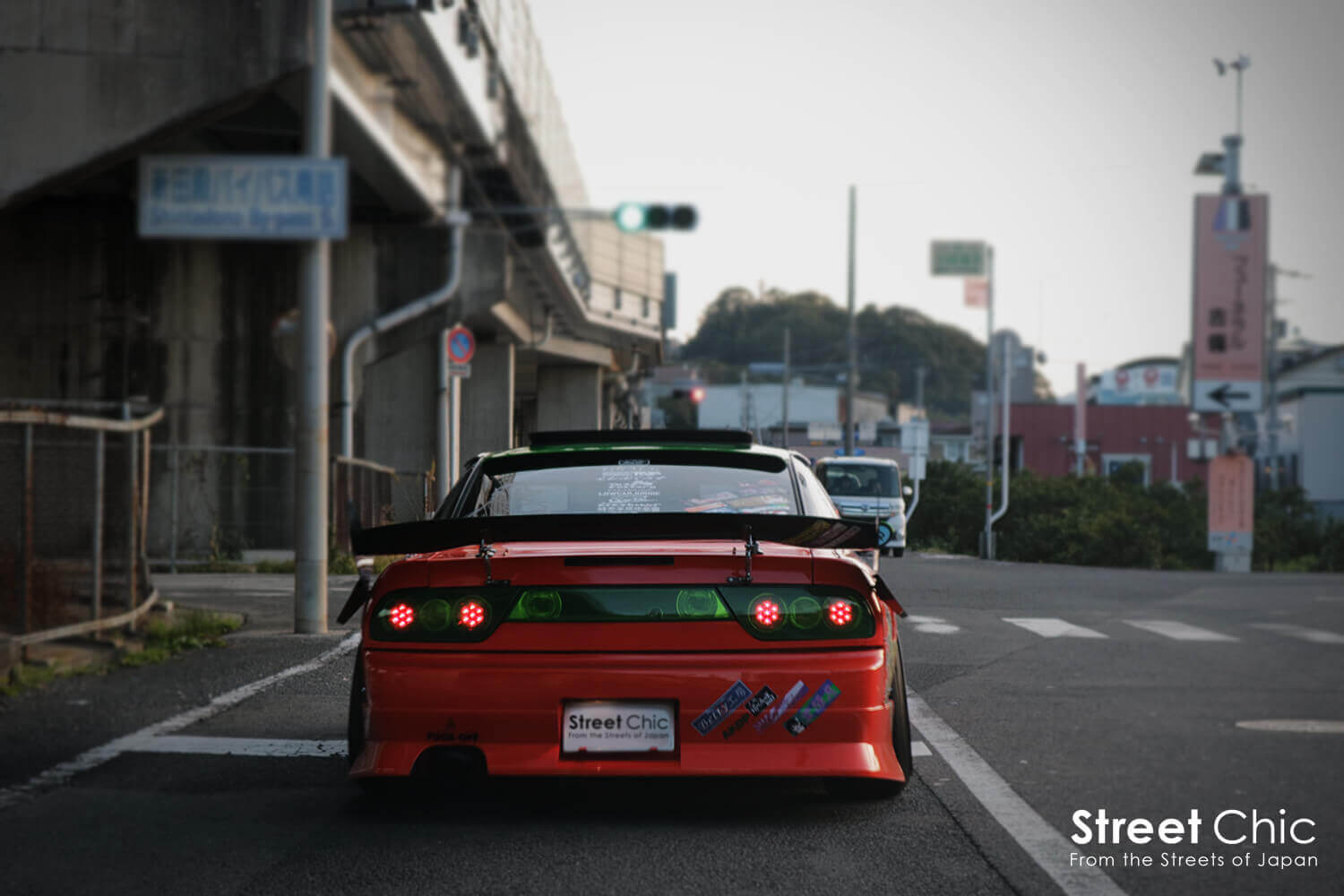 An itasha that can drift
His 180SX is not only an itasha graced by his favorite anime girl, his car is drift-ready. But he takes the car out only when he goes to the circuit, because he doesn't want his car attracting too much unwanted attention, which he fears may "cause trouble to the anime company."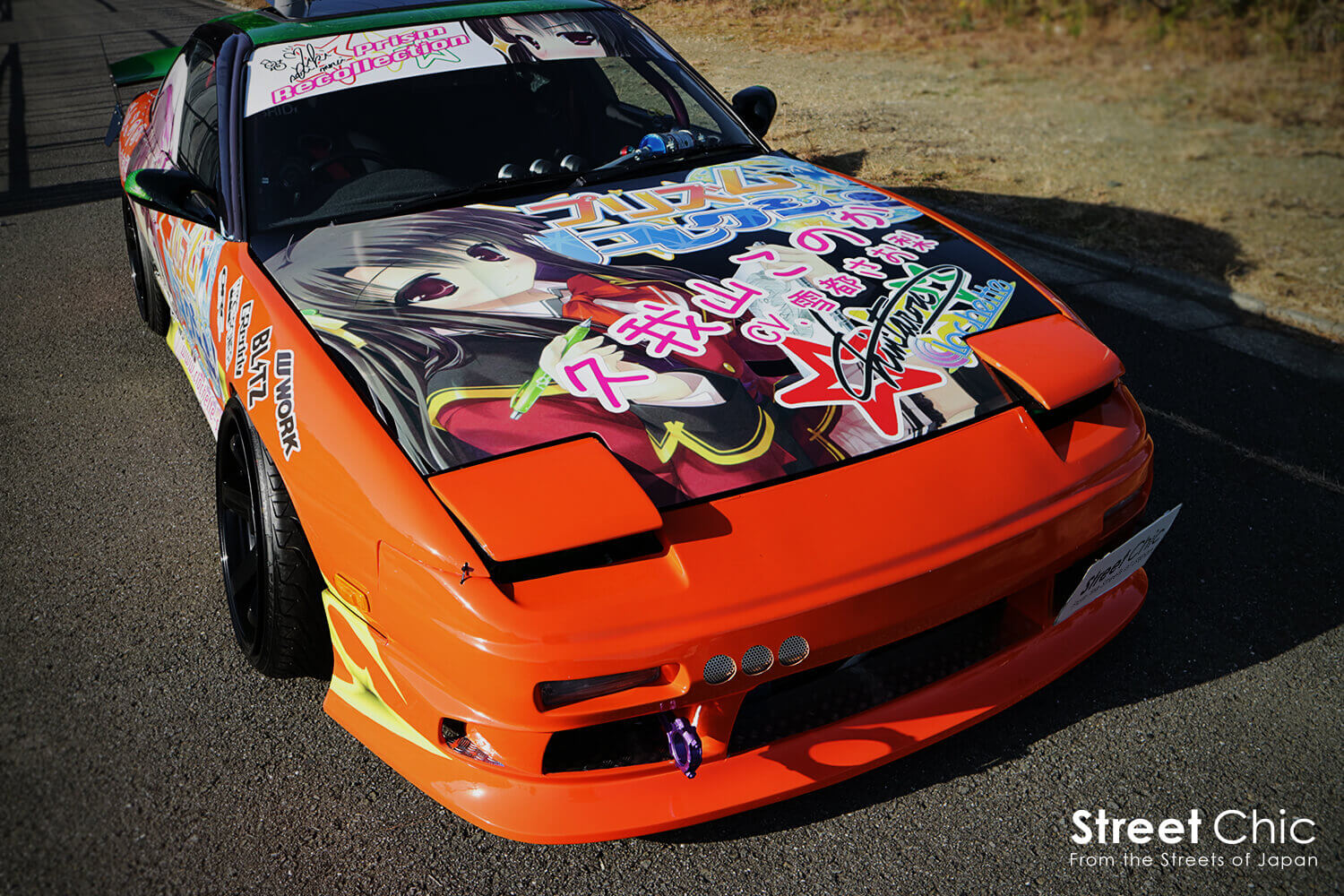 His favorite spots to hit up are "Suzuka Twin Circuit and YZ Circuit." He likes those circuits because they have less crashes reported and he prefers to race safely.
Mid-era 180SX
He's had 9 cars to his name in his life, including an S14 SILVIA and another 180SX. His car now is a mid-era (RPS13/KRPS13) 180SX. He likes to work on the car himself, and the only times he takes the car to a shop is when he has to "take it to get shaken (vehicle inspection)." When he bought the car, fuel leakage was a big problem and he had to take down the fuel tank numerous times.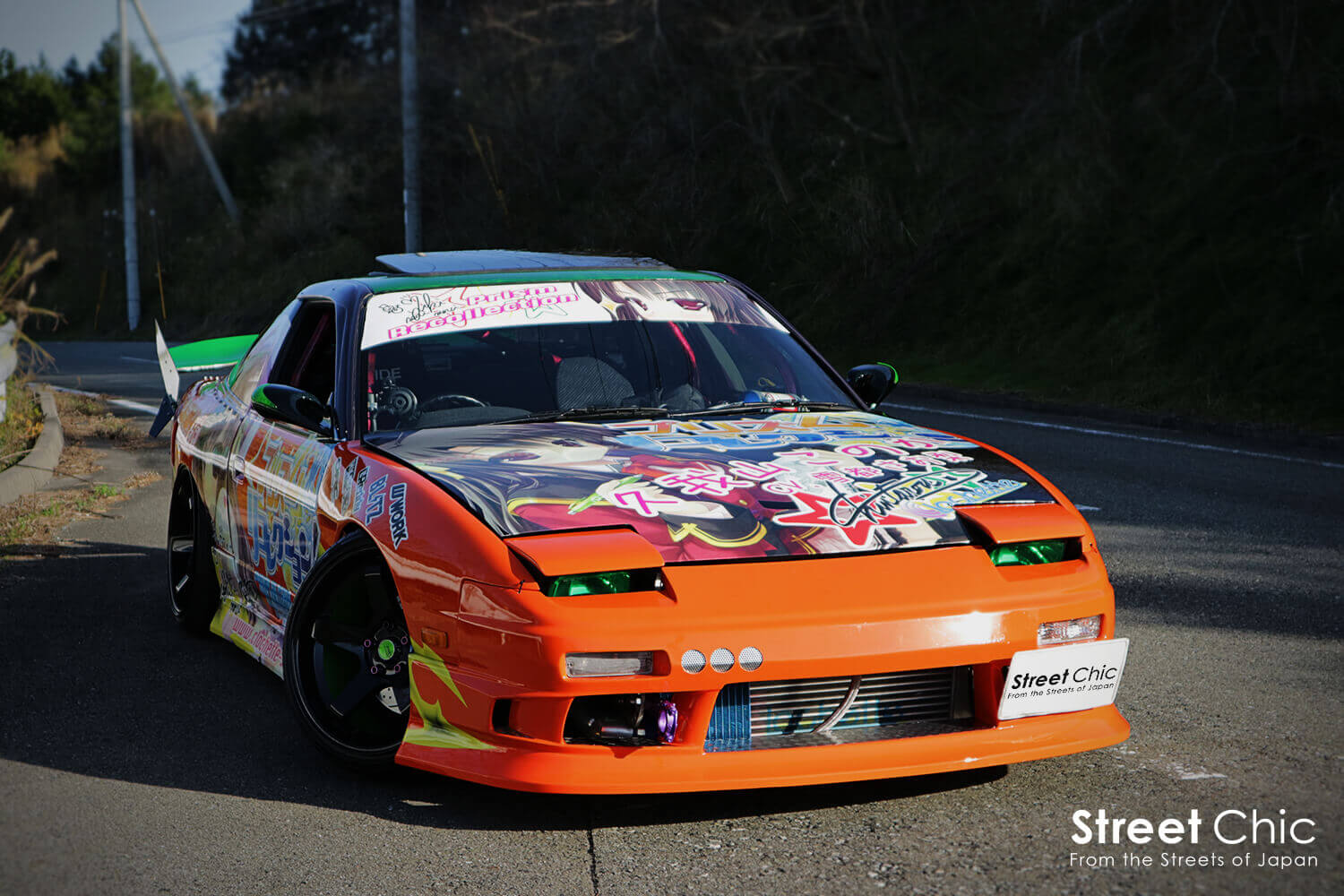 I have a 180SX too, so I feel where he's coming from. It's that "not again!" kind of frustration.
Modifying crossmember to keep the car low
When you lower the body of the car, at a certain point the lower control arms start to point upward, making the arms resemble somebody throwing their hands up. In Japan, people call that "banzai," a situation that could cause all sorts of trouble to the car.
His car became victim to a "banzai" situation on numerous occasions, causing the driveshaft boots to tear. He had to replace driveshafts three times in 6 months. He remedied the situation by raising the crossmember by 15mm, and replacing the rubber bushings with polyurethane ones.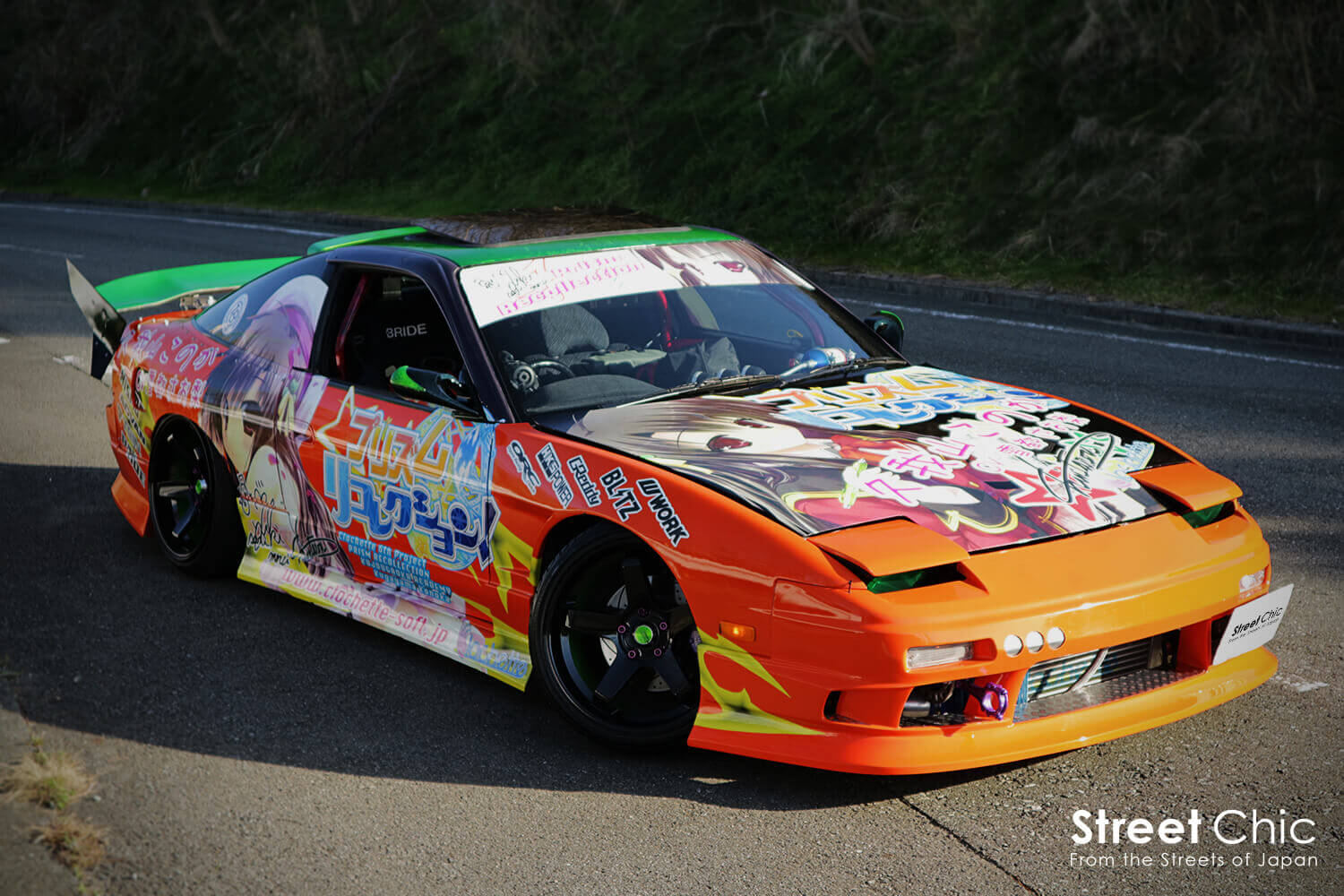 Besides panel beating the part of the fenders that touched the tires, he adjusted the caster angle to tilt the tire forward, and extended the lower arm and adjusted the camber angle to 10 degrees.
He's using S14 lower arms extended by 50mm. When you compare that to the S13 lower arms the extra length comes out to be 65mm. And he also has tie rod ends customized so that he can have them at a desired angle.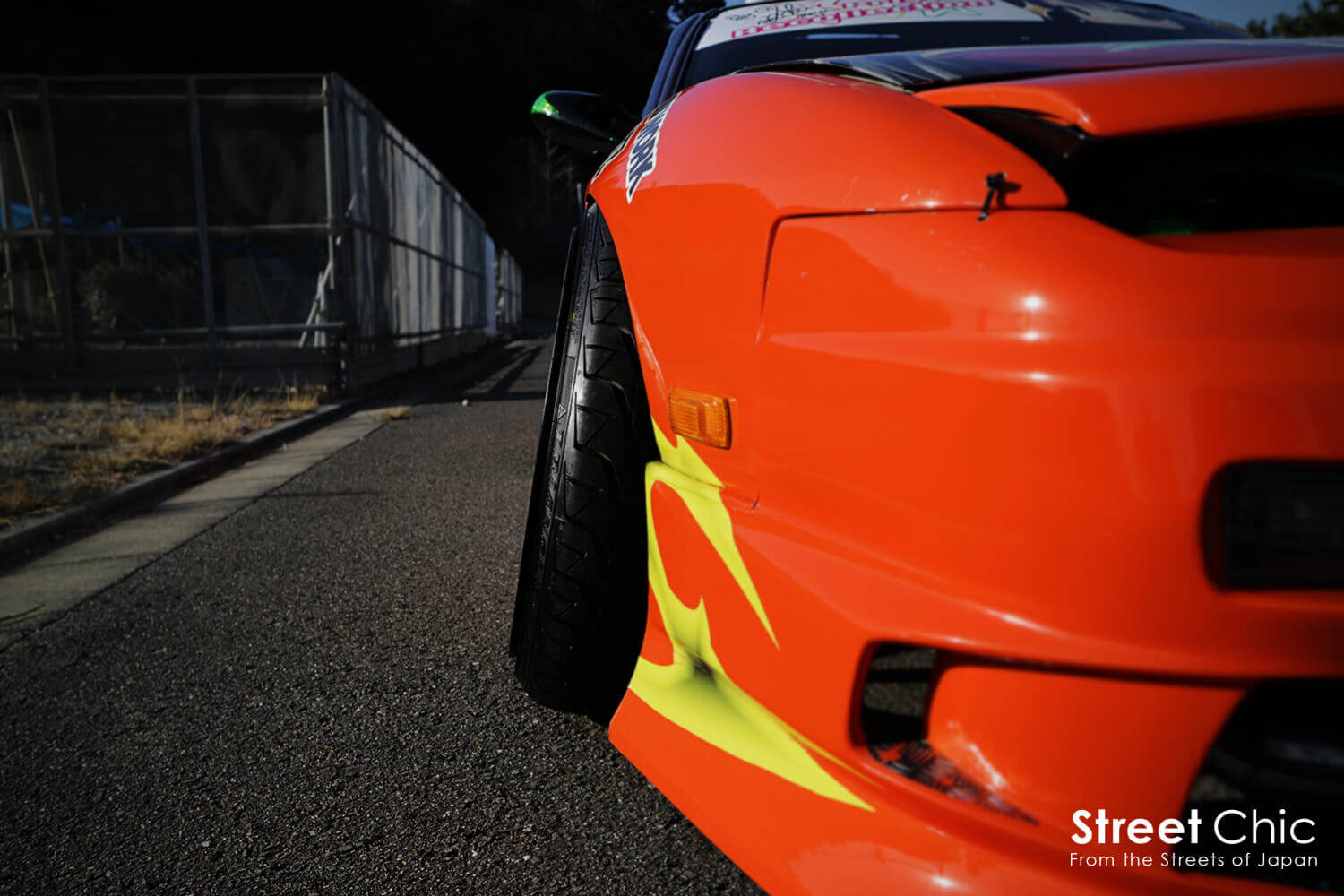 Now he has no problem cornering. The car can handle drifting and freeways with no problem.
With all the work he's put into his car, he tells me he personally doesn't refer to the modification he's done as shakotan (lowered) because there are guys around him that have even lower cars. Would love to meet these guys someday.
Green on the inside
The wheels and tires are 9.5j+18, 225/35/18 in the front and 10.5j+15, 225/40/18 in the back. The tires are stretched, but "they've never separated, lost air or came off the rim." It's interesting that he decided to have green wrapping sheet lined along the inner rim of the wheel.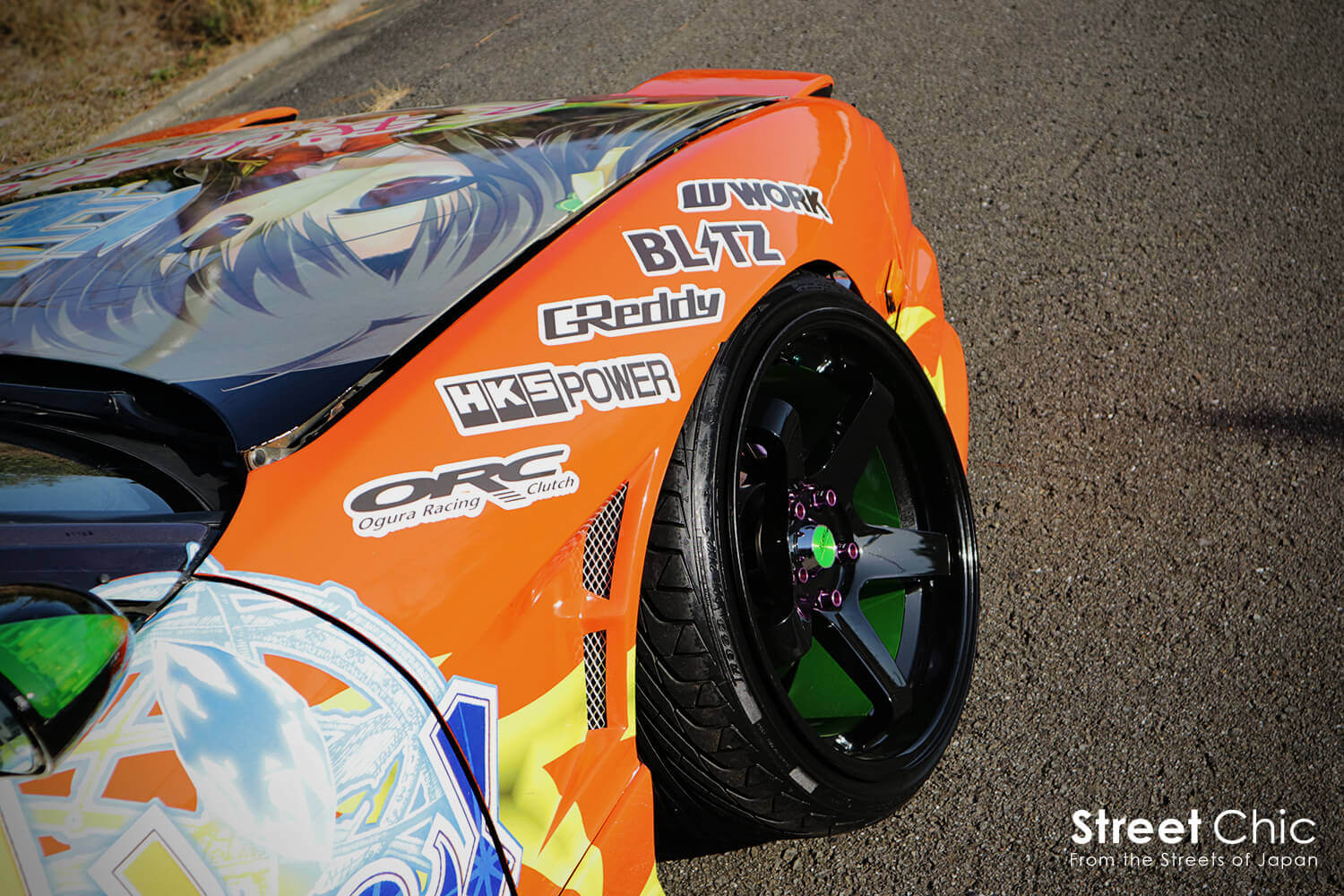 Let's see what's under the hood
He's using an S15 turbine, an exhaust manifold from SuperMade because he likes the sound, and an ECU by Mine's. The car can do 290 horsepower at 0.95 bar but it's not as reckless as some of the more wildly tuned drift cars out there, and he says he can enjoy it without fearing for his life.
The radiator is a genuine S14 part, oil cooler is GReddy, and the intercooler is by an unknown company but it's got a video game company logo drawn on it – something he picked up on Yahoo Auction.
The exterior is DUCE full aero body kit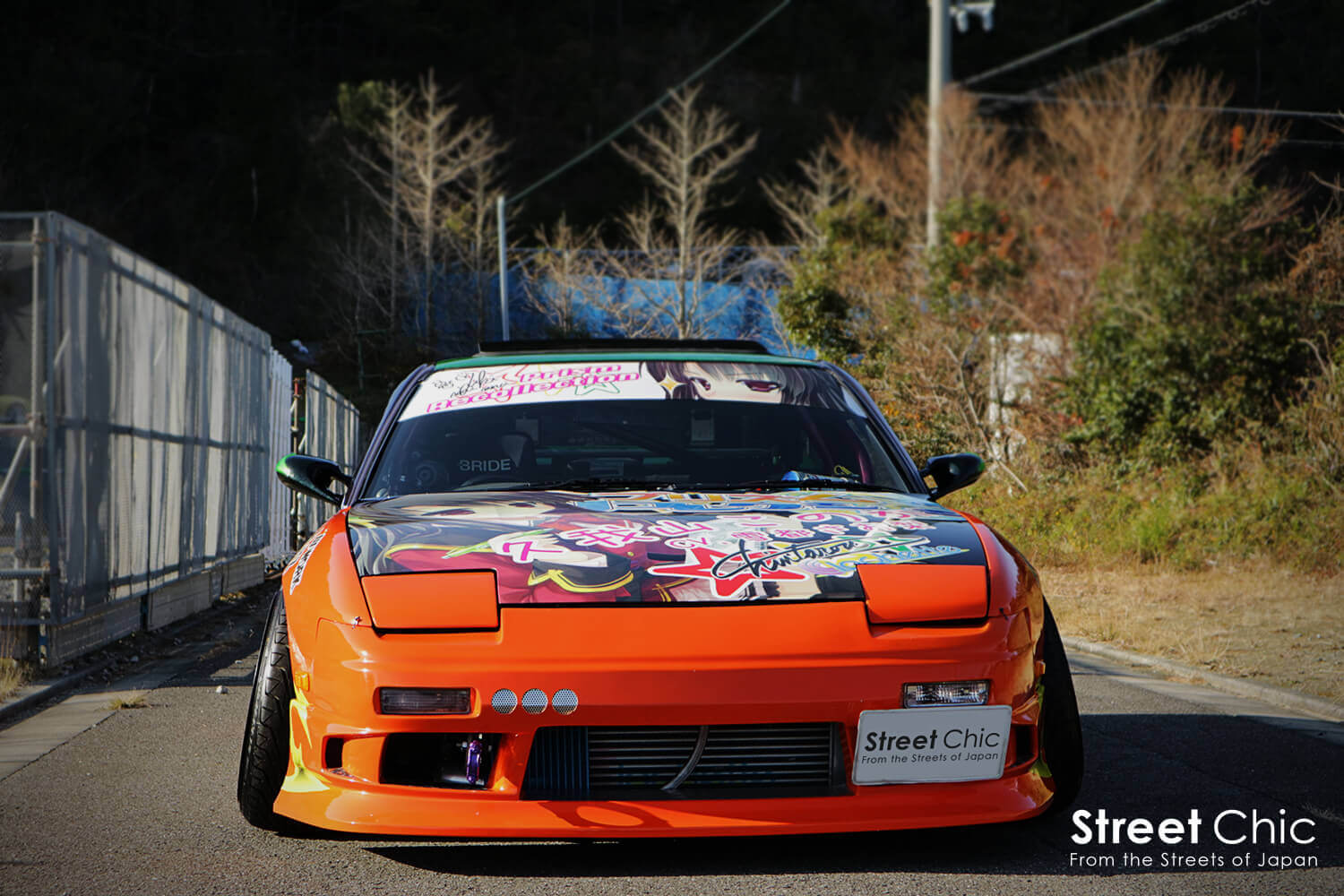 The car sports DUCE's full body kit. He put on the earlier S13 model bumper because the turn signals he's got are the earlier ones. The side view mirrors are by Ganador, which is harder to come by these days. He has painted them black, and sprinkled green flakes on top. His attention to detail is impressive.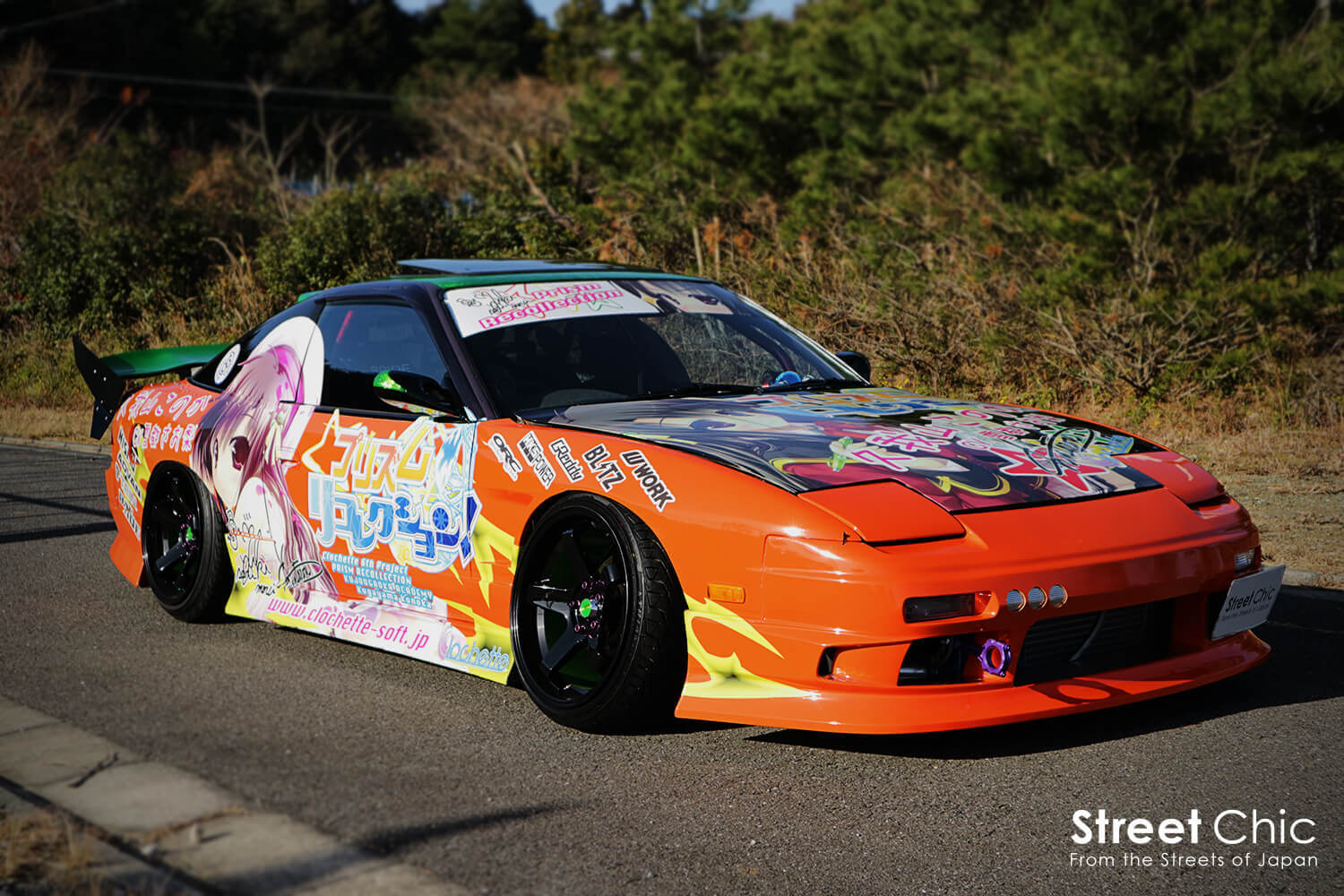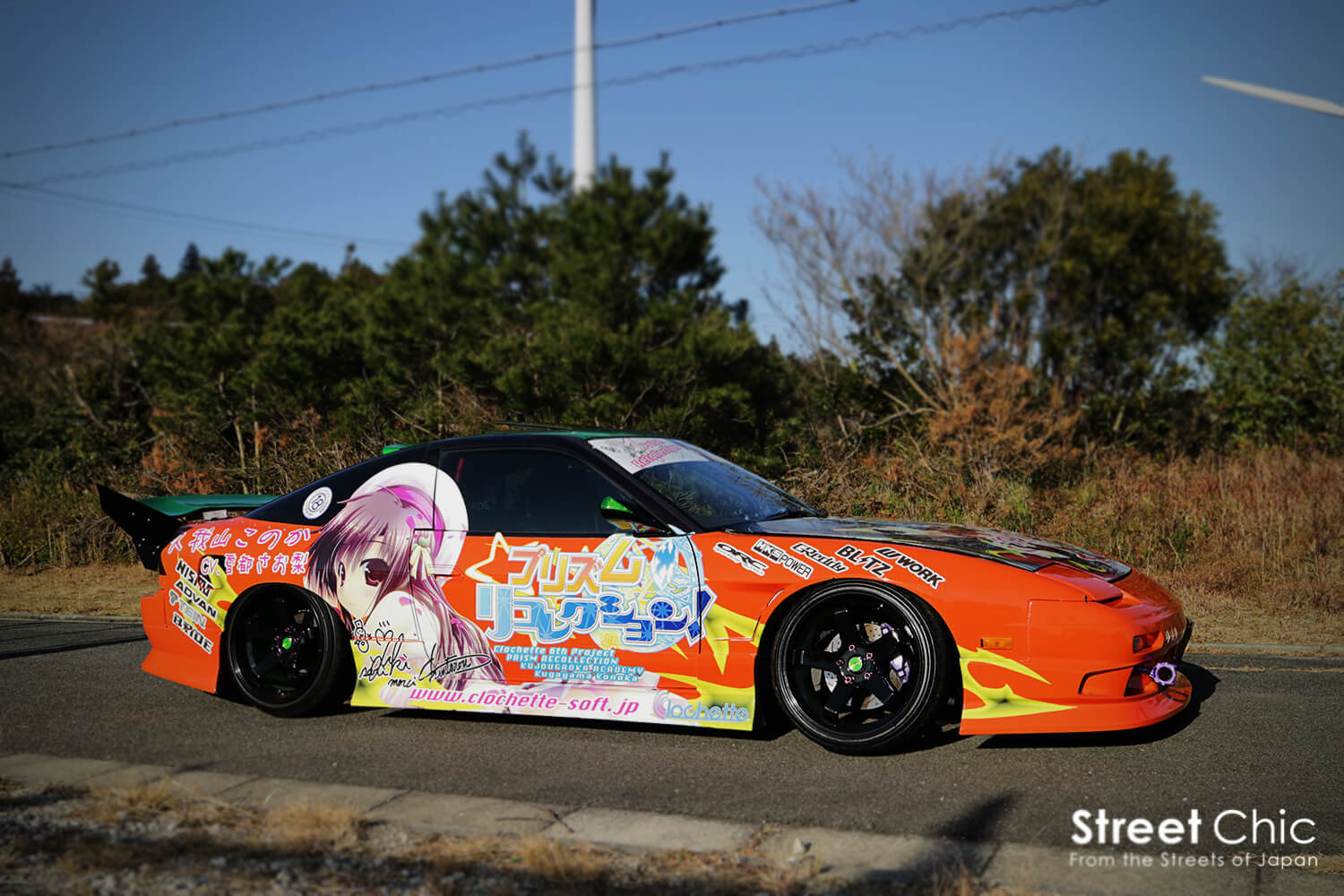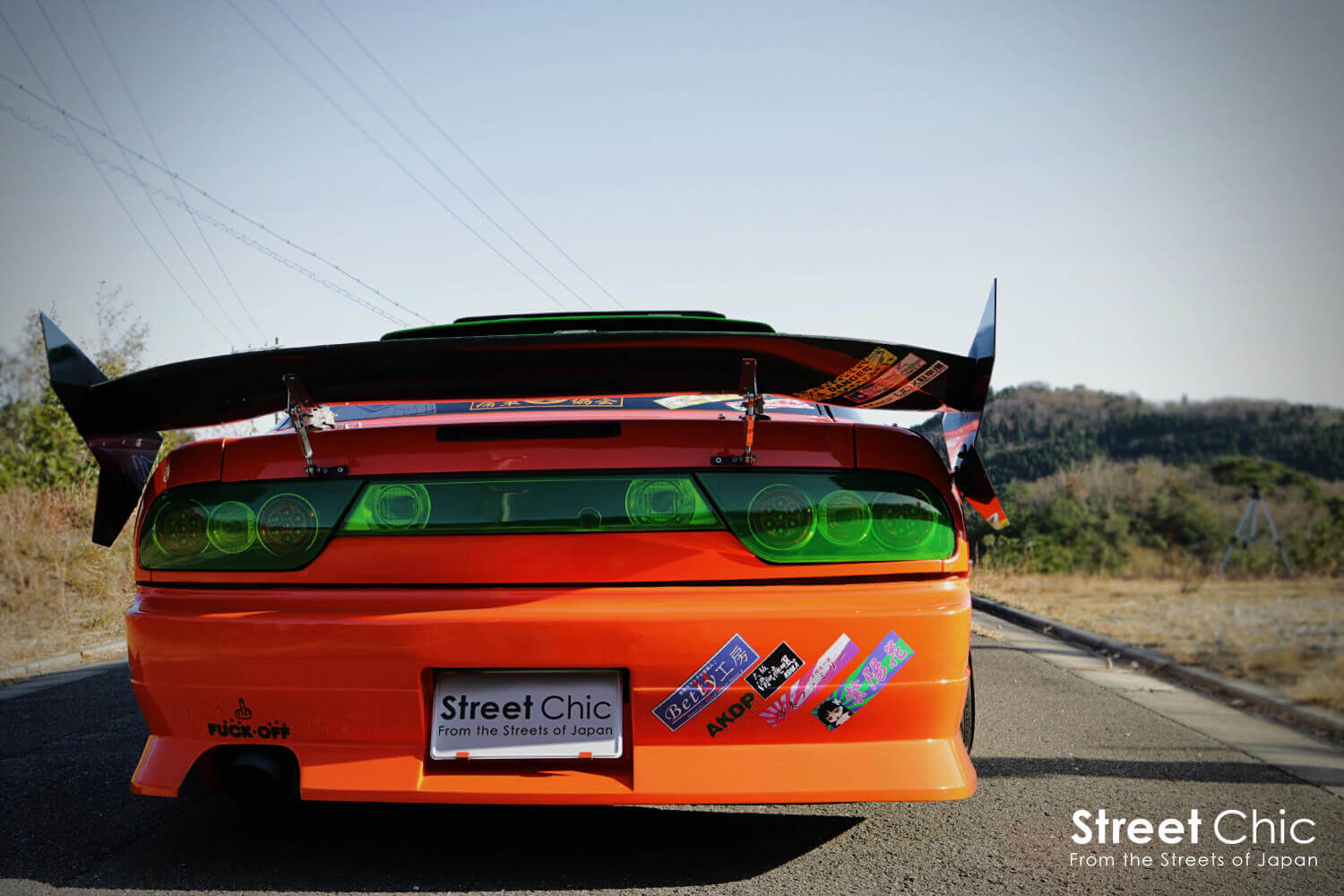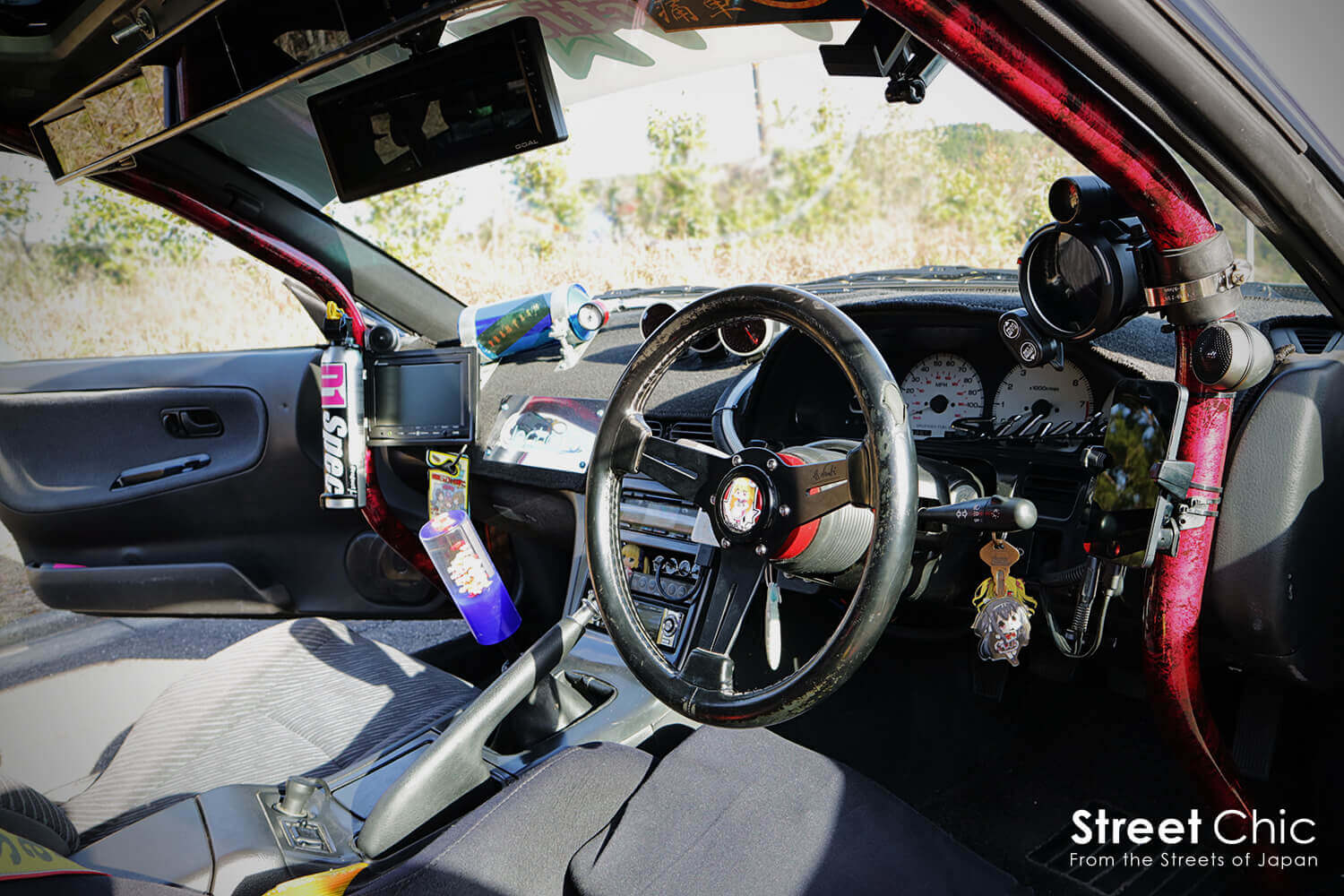 The interior's got a dash cover, water temp, oil temp and boost gauges, and a big tachometer. This car is ready to burn rubber.
Keep modding on
While he has obviously spent countless hours and stacks of his hard-earned yen on his baby already, he says 2017 is going to be a year of major modifications. "If it can come off, it can be restored" is his motto, and he's going to continue adding on and taking stuff off his car by himself, in order to realize his dream car. We can't wait to see what it evolves into.
Car Specs
Exterior: DUCE full body kit, Ganador mirros
Wheels: 18″
– Front: 9.5j/offset+18/18
– Rear: 10.5j/offset+15/18
Tires
– Front: 225/35/18
– Rear: 225/40/18
Suspension: extended S14 lower arm, one-off tie rods, Silk Road coilovers
Turbine: S15 Genuine
ECU: Mine's
Intake & Exhaust: SuperMade exhaust manifold, D-Max custom muffler,
Character: Konoka from Prism Recollection!
Share this Article
This article has been shared on Facebook 4 times.