S15 Silvia Itasha With DIY Aero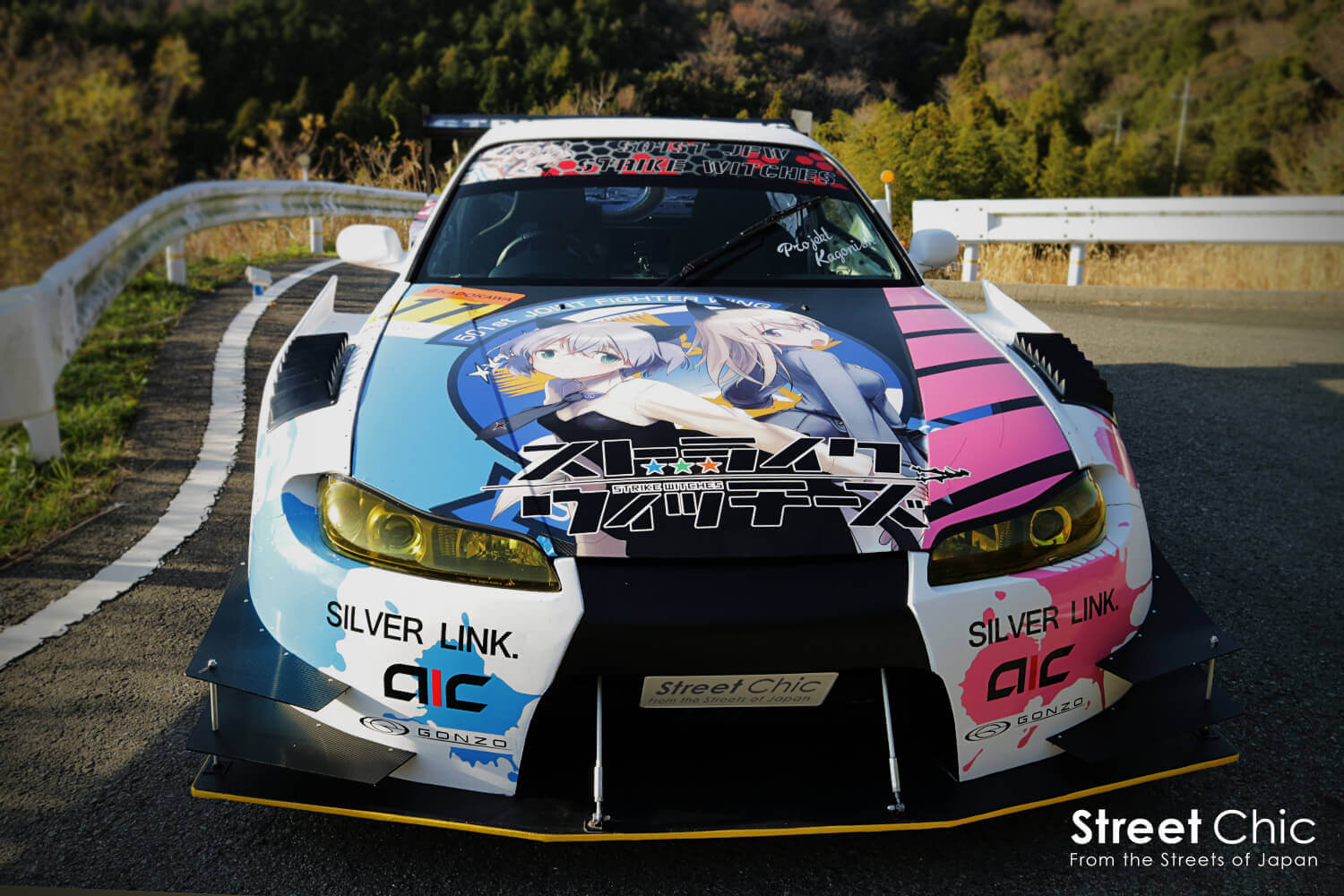 We headed southwest to Wakayama prefecture to meet up with somebody we've been wanting to talk to. It was a nice day to drive down the scenic Hanawa Expressway. The sun was glaring in our eyes as we pulled into a parking lot by a convenience store.
I spotted the man we were looking for in the store right away – a car owner who goes by the name "Maashee." After some chitchat, we headed to a nearby touge by a tangerine orchard. Driving behind Maashee, we were able to get a good look of his build from behind.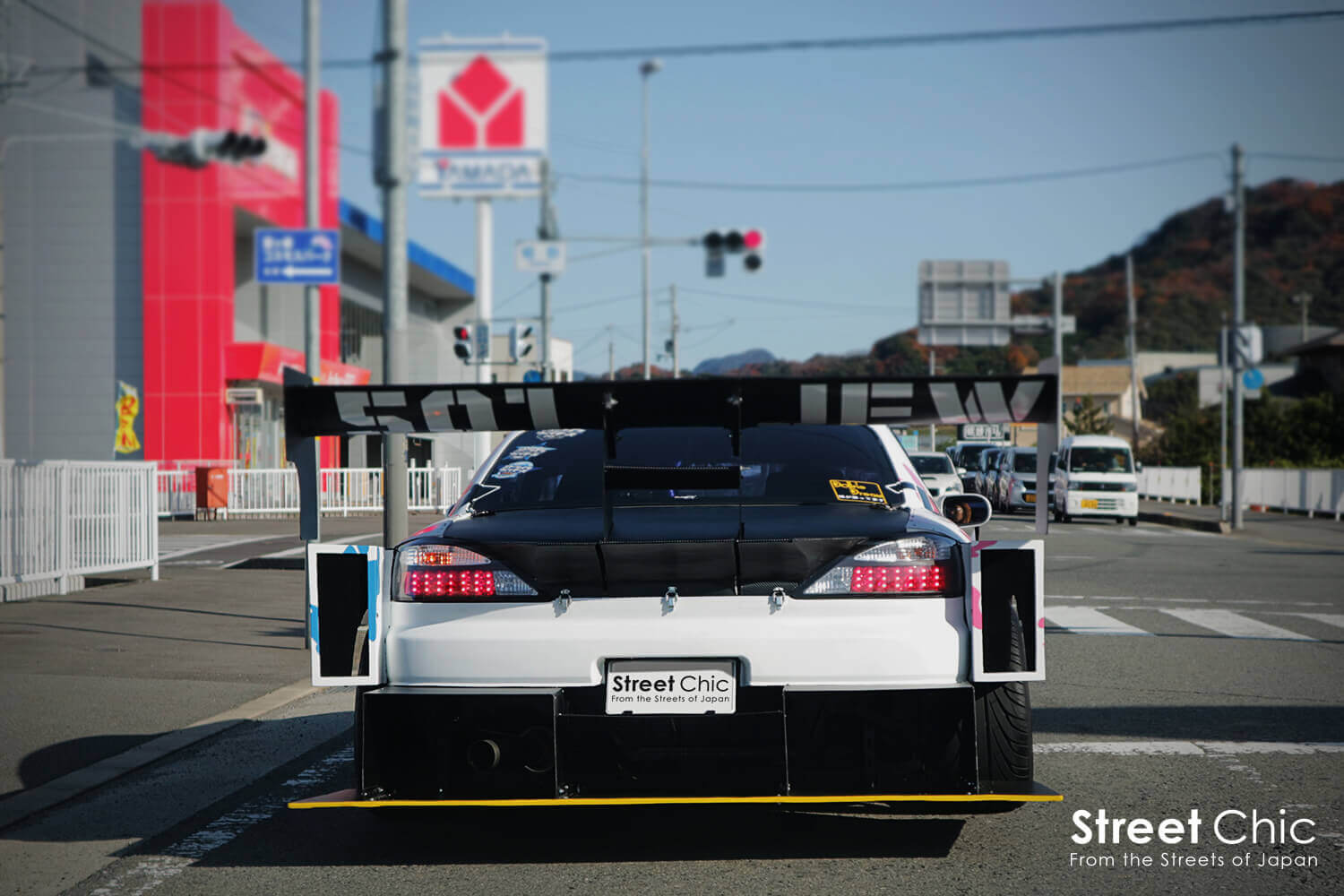 Decked out in custom aero
"I have a space rented out in the factory I work at, and work on my car there," he says. As you can tell from his tweets, he does a lot of DIY work creating his own aero parts from scratch.
He says this Nissan Silvia S15 Autech was the first car he ever bought. It's not an every day thing to see a first-time car owner customize their car as much as he has. You gotta give it up to him for that. People say young people in Japan are less interested in cars nowadays, but guys like him restore my faith in humanity.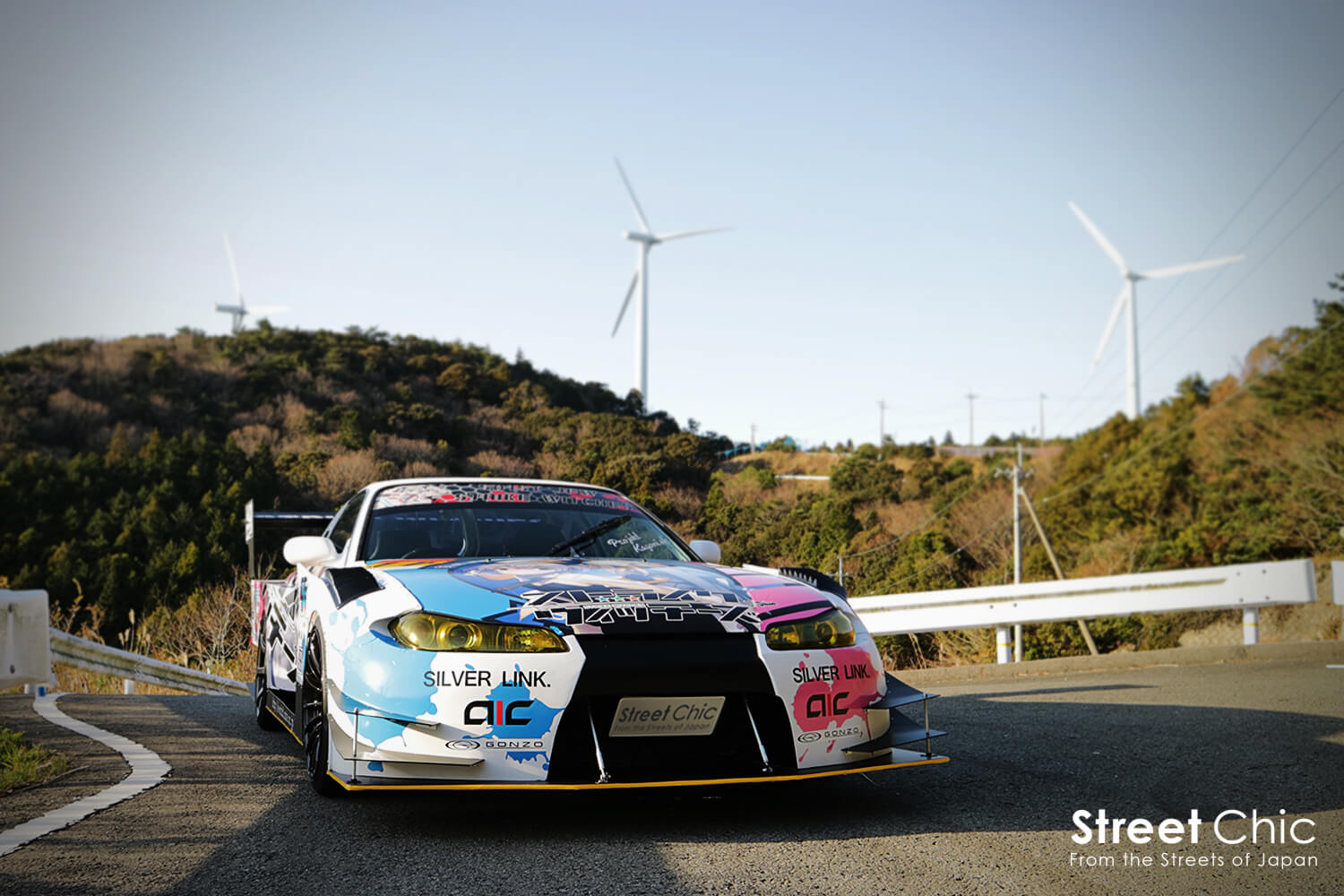 Custom-making parts to fit the car
In order to make the kind of parts he makes, usually you'd need blueprints, but he says he just measures his actual car and make parts according to the dimensions. He mentions that "kits are too expensive to buy" which is why he makes them himself, although when considering the full cost, "it usually ends up costing more than simply buying the parts." We love that kind of DIY spirit so we applaud him for that.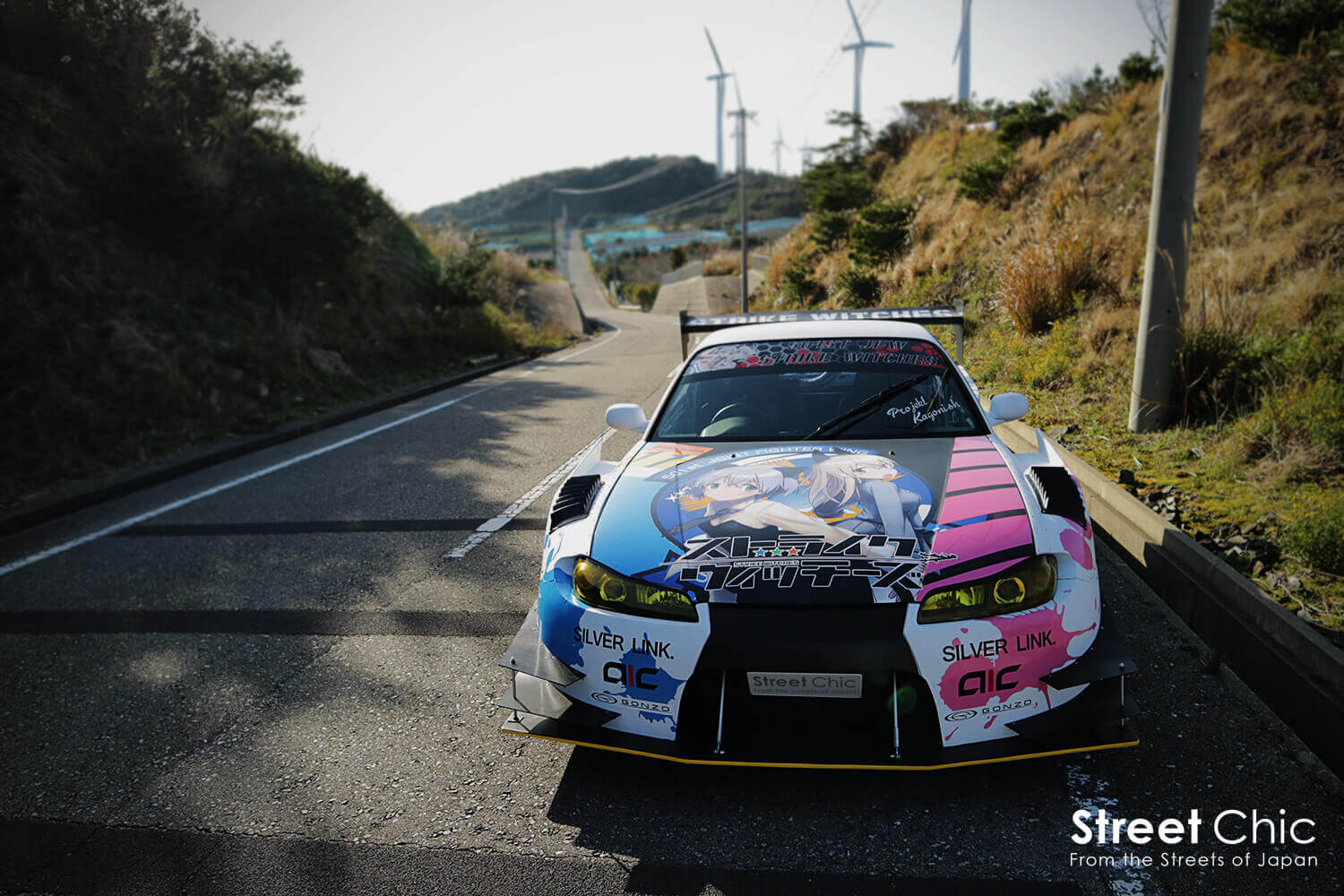 The large rear wing immediately grabs your attention, but if you look at it from the side, you'll notice it's got an interesting curve to it. He says he's still in the process of developing the wing, and is planning to upgrade it later. We ask him if he's planning to sell it in the future and he replies with a humble "are you kidding me?" but I hope he continues to hone his craft because, well, you never know what your passion could lead to in life.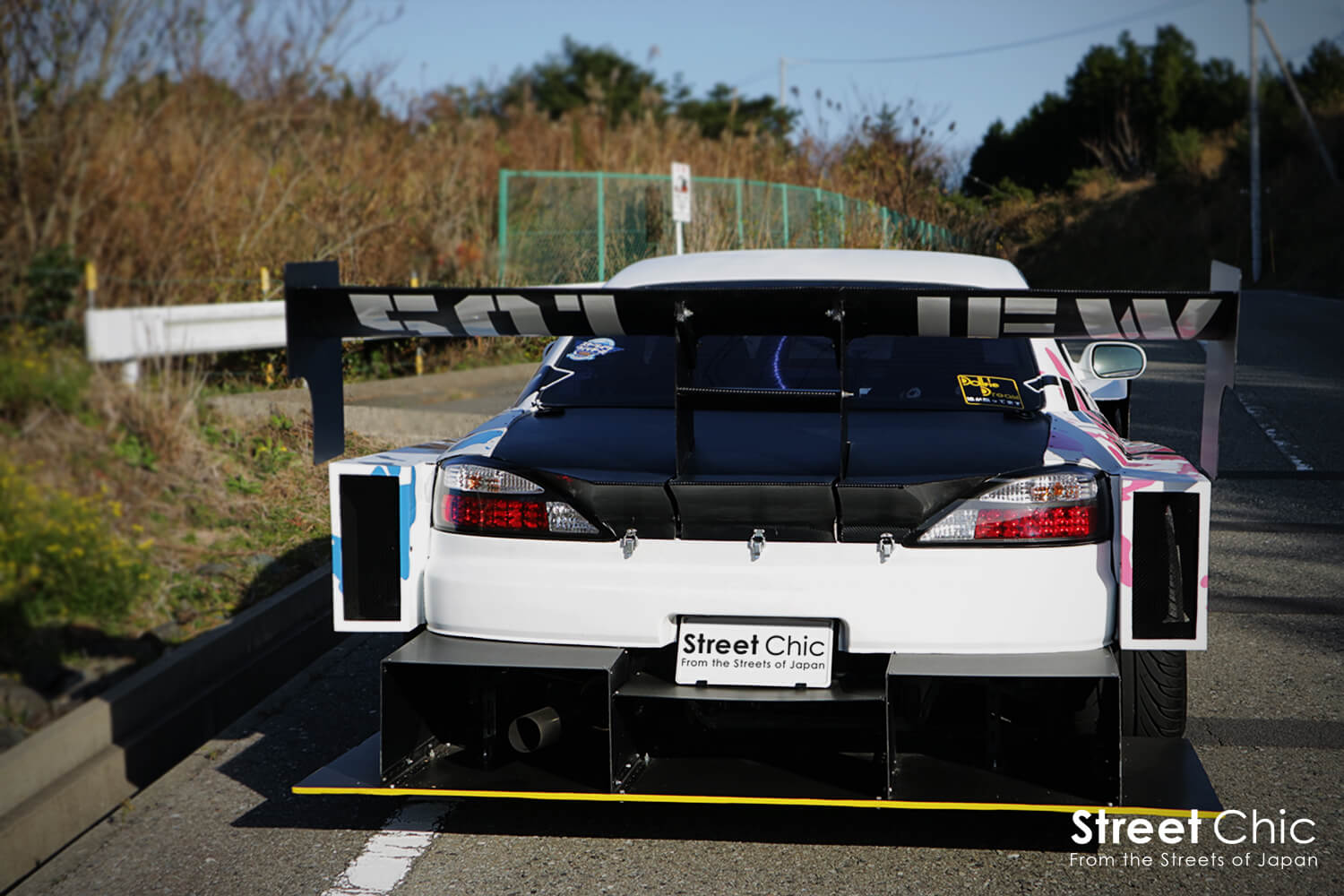 The fenders are +100mm on each side. Compared to my 180SX (+50mm) it is damn wide. The front fenders have ducts on the upper side. I was following the production process of the ducts on Twitter but couldn't tell where they were supposed to go from the shape of them, so when I finally saw how it's used in person, I was impressed.
He's taken a chuck of the front bumper out which gave the car a modern edge. Don't let the anime imagery fool you, it's a sharp, aggressive build.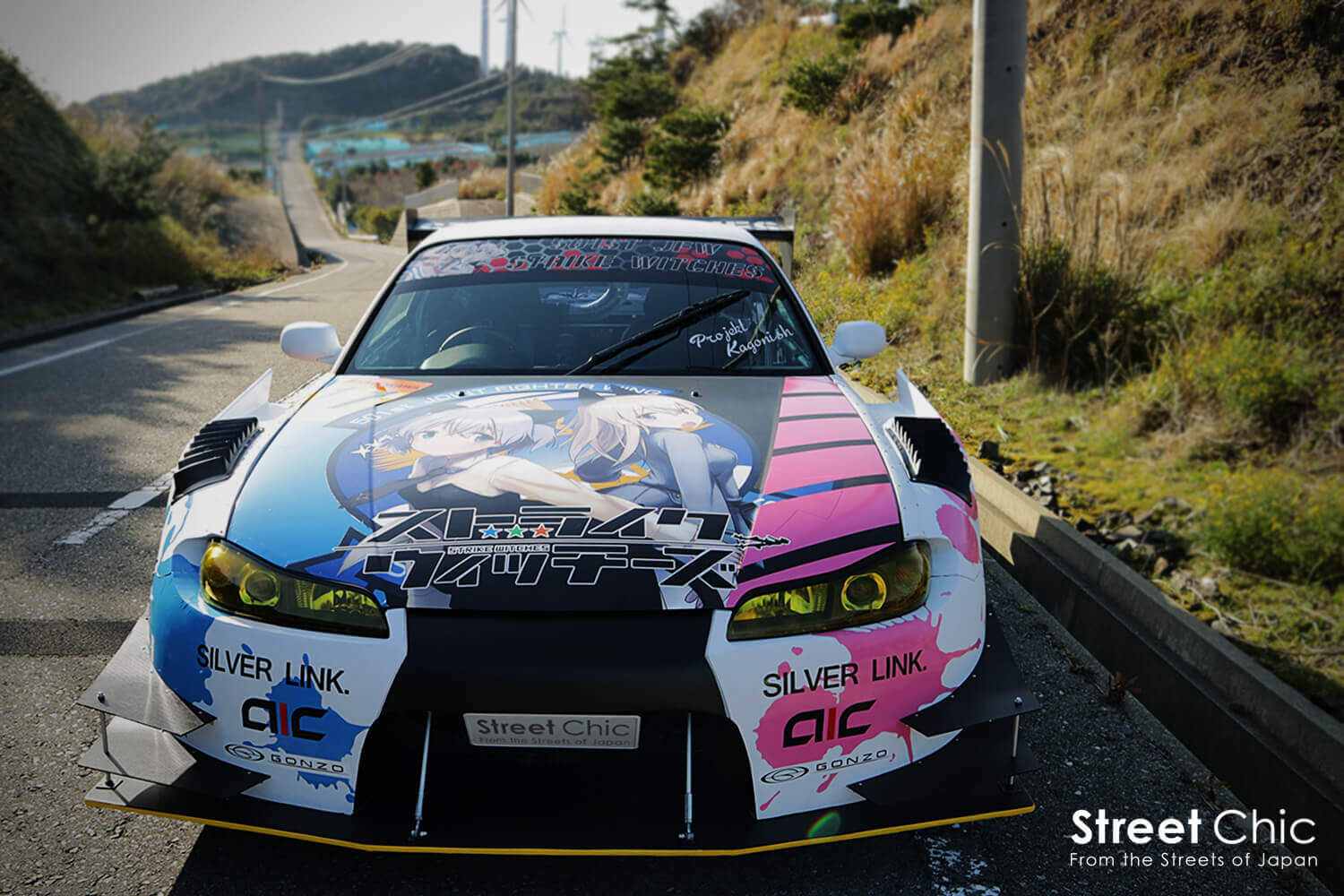 The interior is bare with wires sticking out, but that's because he's in the process of making his own door paneling. The dashboard you can see in the photo is made using aluminum composite panels.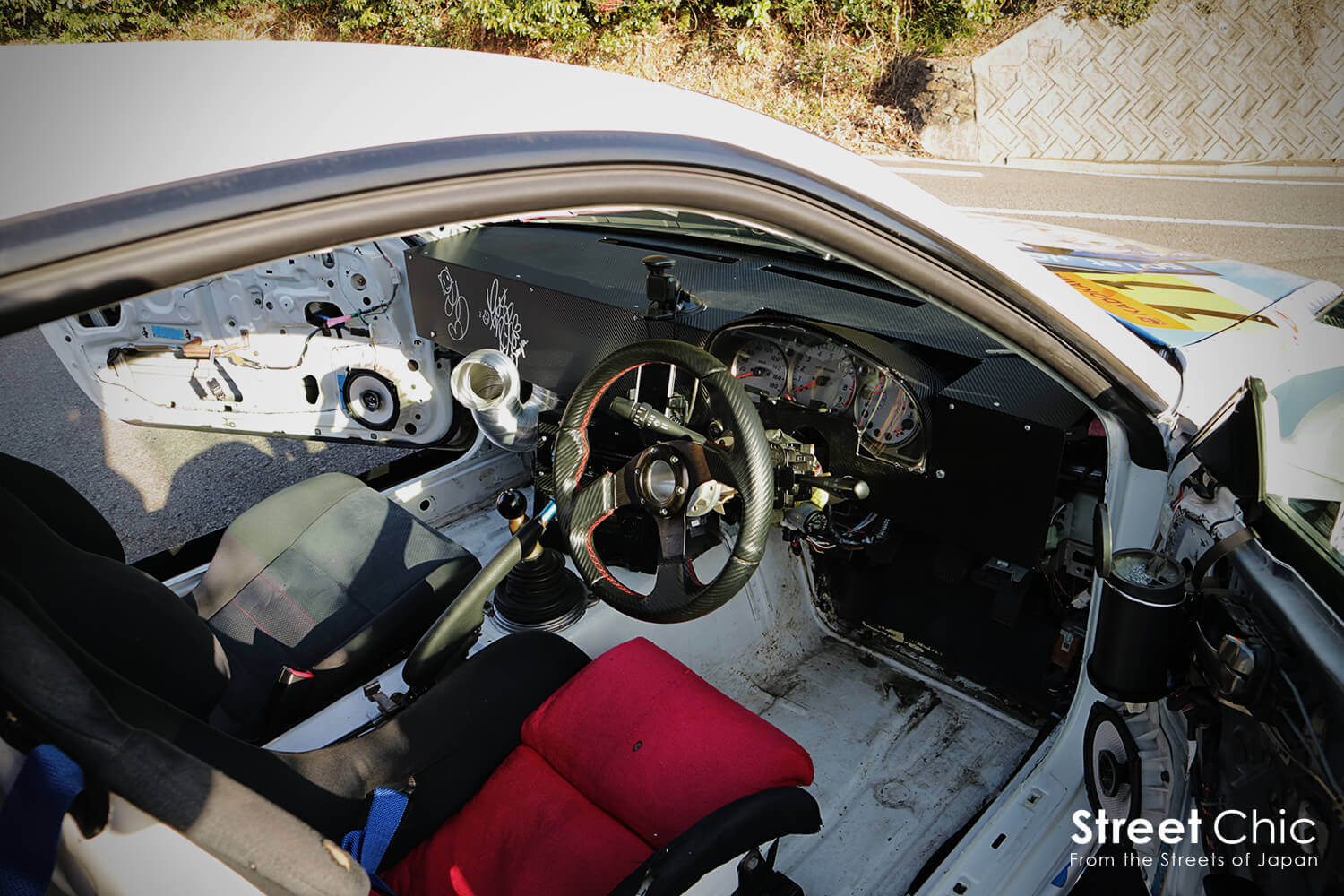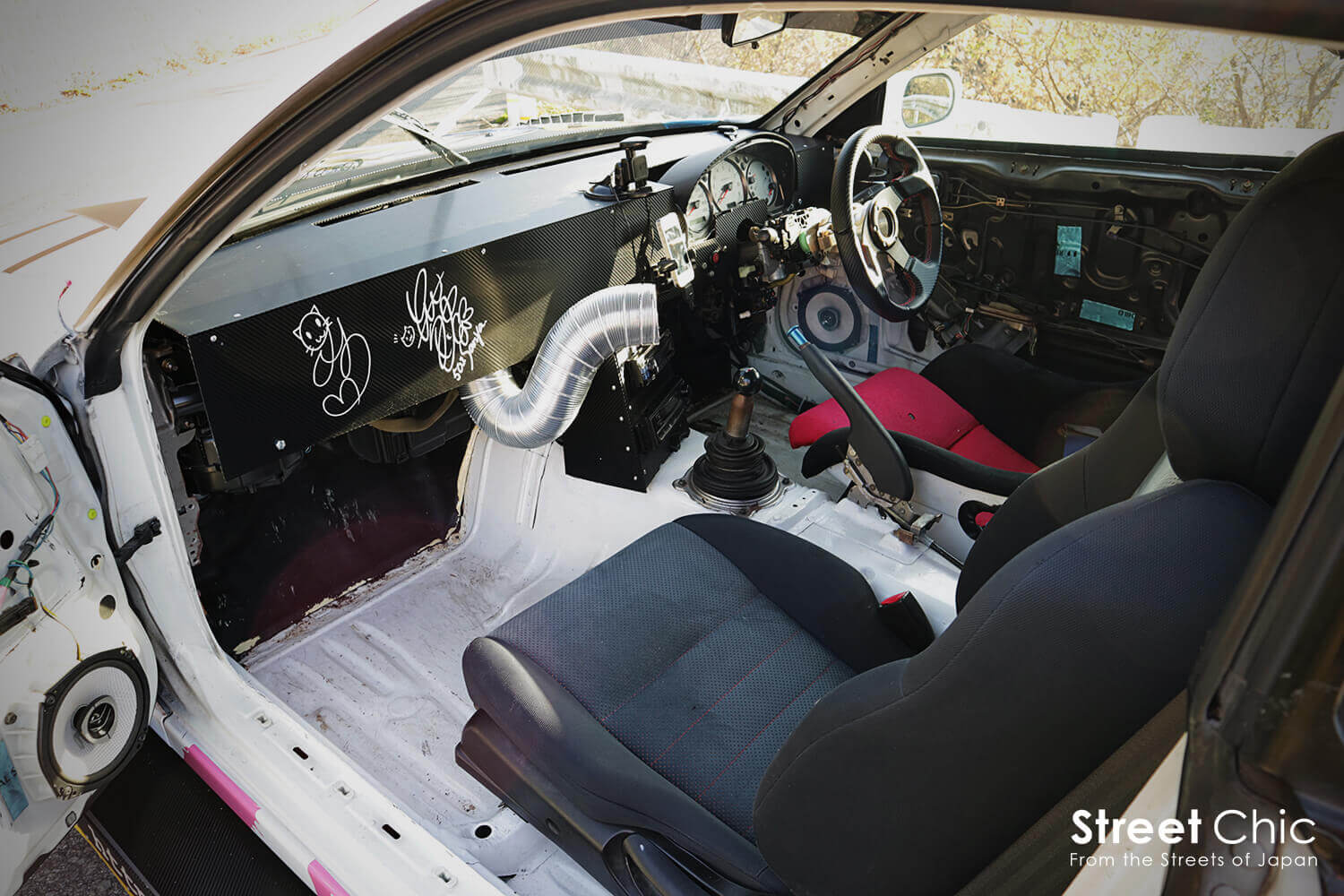 Check the wheel fitment
"The wheels and taillights are the only thing I purchased," he tells me. The wheels are 18″X10.5j up front and rear, with 285/30/18 tires. Because it's so wide, he's using 30mm wide tread spacers on the front, and 60mm in the rear.
Though he's got the tires sticking out far, they are nicely flush. "I'm not drifting right now so it's ok," says he. But the wide tread spacers he's using are aluminum which makes him a little worried.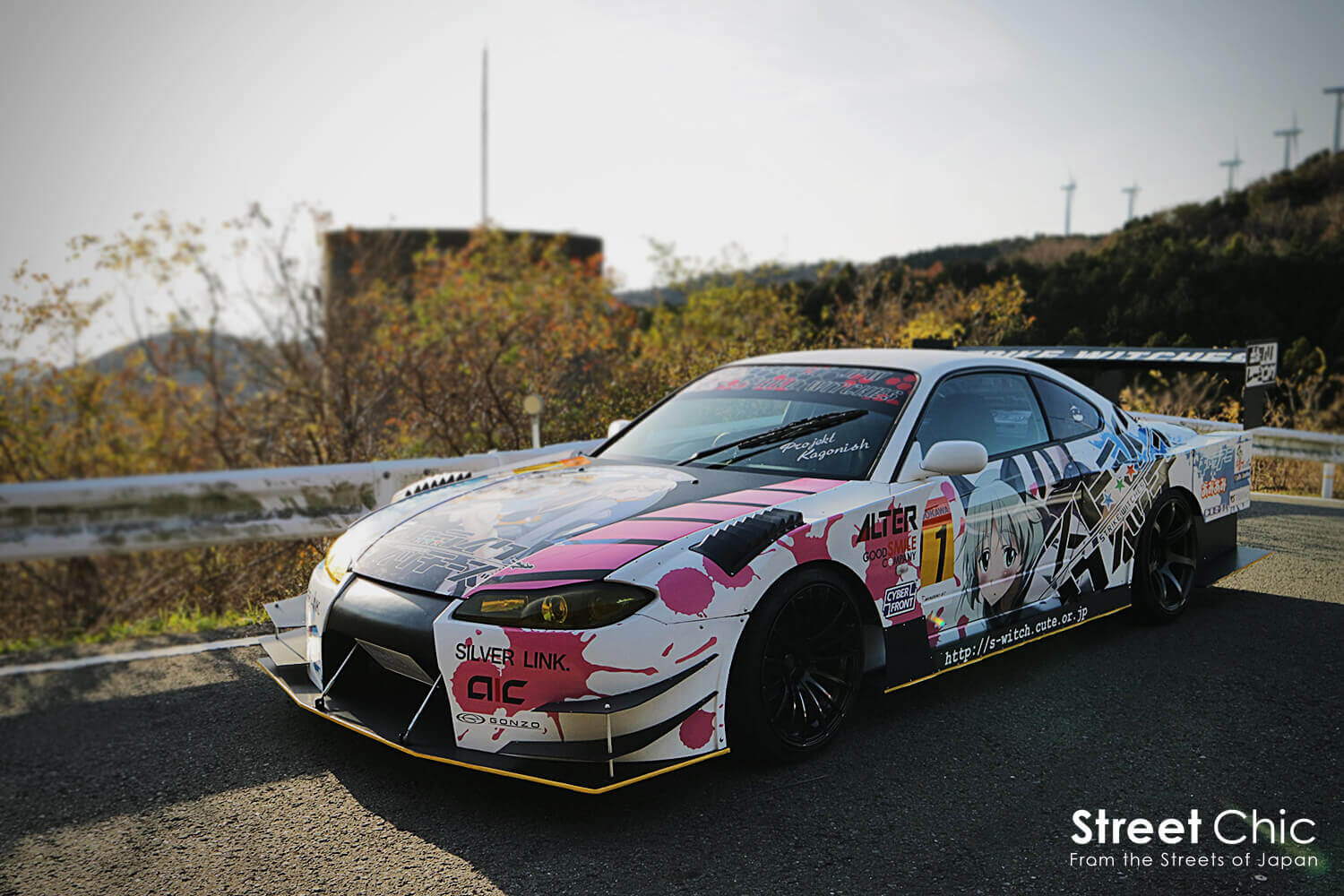 When he needed to extend the lower control arms, he decided to take it to a pro. His car might suggest otherwise, but one thing that he says he's always conscious about is not causing trouble to others. When he made the FRP wing, he made sure it wouldn't irritate other people on the road. As for the lower control arm, since it's a part that needs to endure a lot of pressure, he didn't want to risk anything by doing the welding himself.
From what we can tell, he has his tires at zero camber. "I like to keep the tires straight," says he. A good choice since it's hard to imagine this body sitting on negative camber tires and looking good.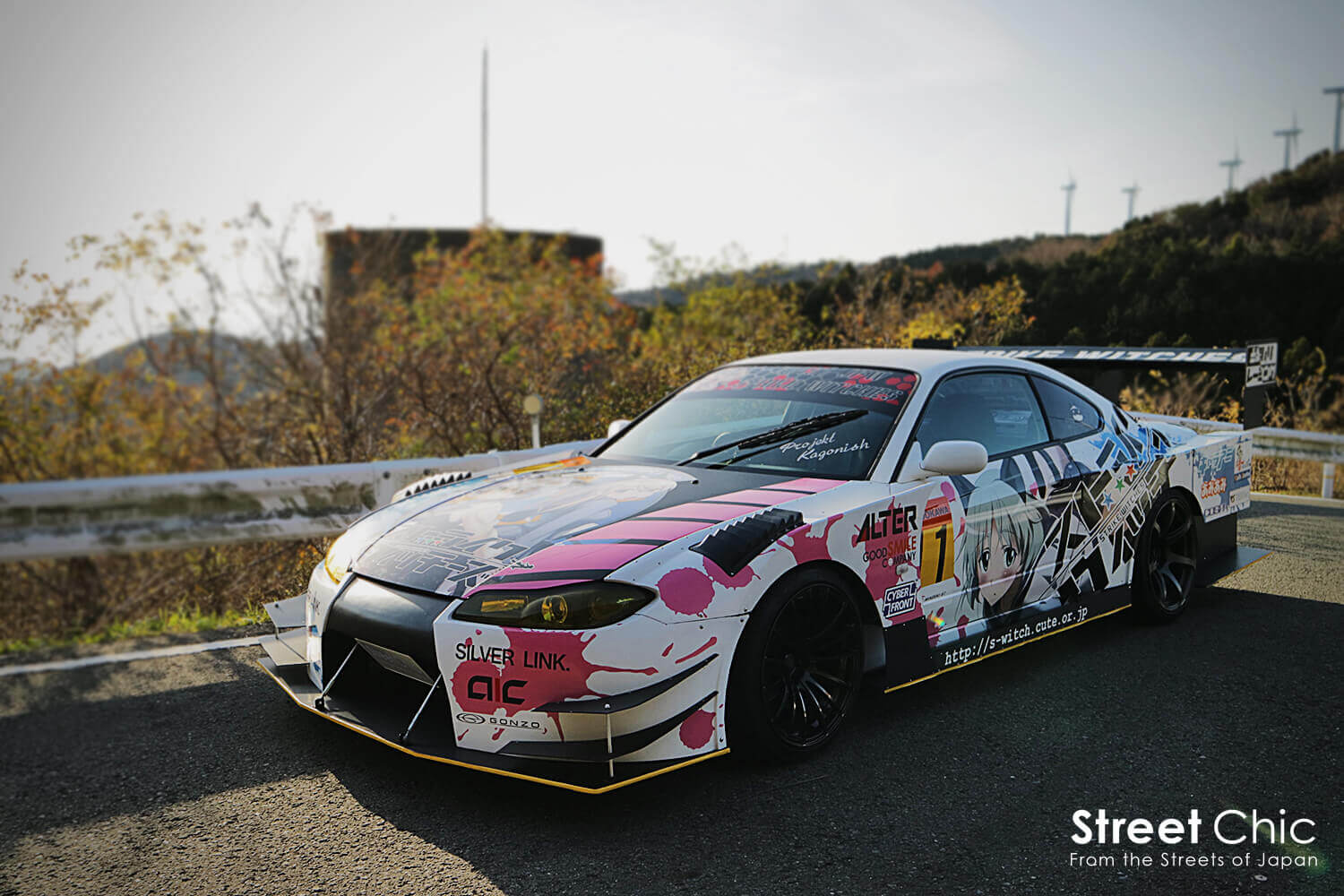 "I've moved the battery into the interior" he tells me. We look under the hood and the battery is not there. I ask if he's trying to do a wire tuck to keep the engine bay simple, but he says that's not his intention.
Towards the end of the interview, he asks me "would you like to see the trunk open?" and goes and opens the trunk, made so that it doesn't interfere with the big poles supporting the wing. He's got a huge smile on his face as he asks, "What do you think?" I'm sure my face shared a similar smile as I complimented his dedication and passion.
Car Specs
Exterior: original aero parts
Wheel: 18″ 10.5j/offset12/5h (Front/Rear)
Tire: 285/30/18 (Front/Rear)
Wide Tread Spacer: 30mm front, 60mm rear
Brake: Brake system from Skyline intalled
Other: Extended lower control arm, Ikeya Formula tie rods
Characters: Eila Ilmatar Juutilainen and Sanya V. Litvyak from anime series Strike Witches
Share this Article
This article has been shared on Facebook 7 times.